Who wants to win our Marvel Studios BLACK PANTHER giveaway? This film is currently third all-time in domestic box office revenue and sits in the top 10 for all-time world-wide box office.  In our review of BLACK PANTHER, Sarah Woloski called it the King of Representation with exciting action scenes, a humorous tone, and a great cast of supporting characters.  To win our BLACK PANTHER giveaway, all you need to do is enter in the Rafflecopter widget below.  One winner will receive a code for a digital edition of the film.  Continue reading for our review of the BLACK PANTHER Home Edition and print out a BLACK PANTHER activity pack. BLACK PANTHER is available everywhere now.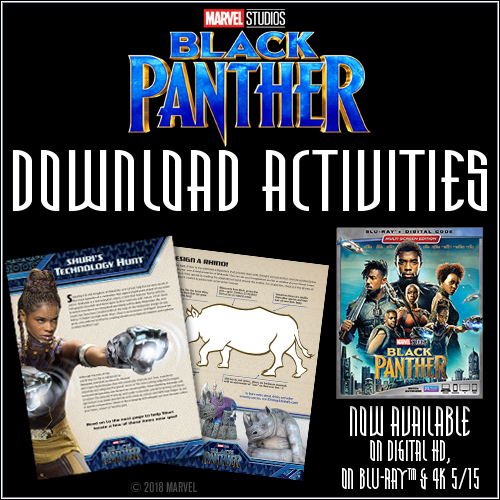 We loved watching BLACK PANTHER again with the home edition, and seeing details we missed when T'Challa (Chadwick Boseman), the young African prince, ascended to the throne as King of Wakanda – as well as the super hero Black Panther.  The film included a special introduction from director Ryan Coogler.
The bonus features for the BLACK PANTHER home edition reveal how progressive and ground breaking this film was, and how Ryan Coogler wanted to give a nuanced and accurate portrayal of both women and African heritage.  The production team even took a trip to South Africa to conduct research for the film.
"We took a really important trip to South Africa to do a ton of research for Black Panther," revealed production designer Hannah Beachler. "We went up and down the country, which helped immensely when we started to create the sets. It was incredible to see all the colors, the textiles and the way things were built. In the end, we shot a lot of plates and second unit footage in South Africa. We shot footage in Uganda, which was used to show the farm land and open space of Wakanda. It was beautiful. We also shot at Victoria Falls in Zambia. When the fighters come flying through the falls and get to the challenge pool; that flight through the falls is Victoria Falls. But when you get to the challenge pool, what you see behind them is a bit of Iguazu Falls, which is in South America. We smashed the two together because we wanted a horizon."
The attention to detail by director Ryan Coogler and his production team was astounding – so much that actor Lupita Nyong'o was required to learn multiple languages for her role in the film.
"The African language that we speak in the movie is Xhosa, which is a Bantu language from South Africa," revealed Lupita Nyong'o, who played Nakia in BLACK PANTHER. "It has the clicks which my native tongue does not have, so I had to learn it for the movie. I worked very closely with a dialect coach to get it right. I also speak Korean in the film, which was a doozy. A week before we shot the scenes in South Korea, they finalized exactly what Nakia was going to say, so all week I kept practicing the lines over and over again. However, I slipped up from time to time. At one point, the Korean extras laughed because they told me I'd said something about a barbecue by mistake – but we got there in the end."
The in-home edition of BLACK PANTHER is packed with deleted scenes and outtakes so that Marvel fans can delve deeper into the world of Wakanda. Danai Gurira who played Okoye, head of Dora Milaje, explained, "there's a scene between Okoye and W'Kabi, which takes place after Killmonger tells us what he's going to do with the kingdom. Okoye is very disturbed by her man seeming to positively respond to Killmonger. There's also a scene where W'Kabi and Okoye go head-to-head. Okoye pushes W'Kabi to a place where all the rage he had towards T'Challa comes out."
Other deleted scenes include:
U.N. Meet and Greet
Okoye And W'Kabi Discuss the Future of Wakanda
T'Challa Remembers His Father
Voices from the Past
In addition to the behind-the-scenes featurettes for BLACK PANTHER, bonus features on the disc include a look back at the first ten years of the Marvel Cinematic Universe leading up to AVENGERS: INFINITY WAR as well as an exclusive sneak peek at ANT-MAN AND THE WASP.
Before the cameras started to roll on BLACK PANTHER, cast members flew out to Atlanta to prepare for the movie's action sequences. "The boot camp lasted six weeks," reveals Danai Gurira. "It was really helpful to get athletically conditioned for the film shoot, although we also got into the specifics of the movements of our characters. We learned fight choreography, as well as different techniques of how our character was going to move on set. It was intense, but I learned a lot. Okoye is the general of the army and the head of the Dora Milaje, so the way she fights is very traditional. Her movement with the war spear comes from very ancient movements of the nation. It was really interesting to learn."
So who do you think is the most powerful warrior in Wakanda? T'Challa? Killmonger? Shuri? Okoye? M'Baku? Or someone else all together?  Let us know in the comments below, and be entered to win our BLACK PANTHER giveaway.  Also, download and print these bingo cards to play while you're enjoying the film.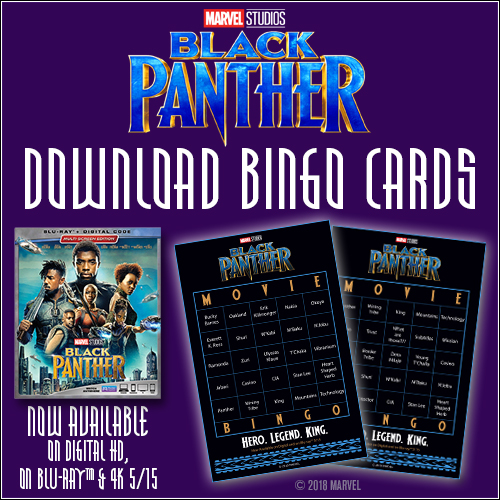 For more family movie news, be sure to follow Adventures by Daddy on Instagram, Twitter and "like" our Facebook page too.